Portsmouth Car Accident Attorneys
Call Us If You've Been in a Wreck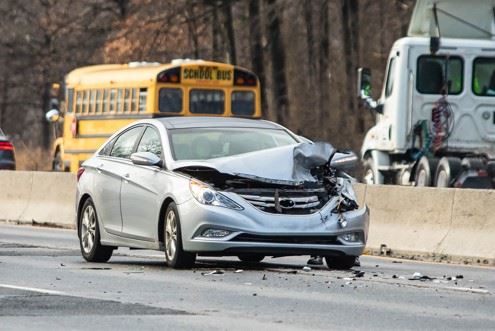 Reckless and negligent drivers are all over the road at pretty much any given time. You should always drive defensively to avoid them, but you never be sure when they'll crash into you. If you were hit by a dangerous driver in Portsmouth, then you should know that you aren't alone and that you have your options to demand compensation for their recklessness.
Upton & Hatfield LLP and our Portsmouth accident lawyers are here to provide unmatched legal representation for you and your family. When a wreck has set your life off-center, you can depend on us to help bring everything back to normal through a coordinated and comprehensive car accident claim. Whether we can negotiate for a fair settlement or need to fight the opposition in court, we're the local team you're going to want on your side.
Dial (603) 716-9777 or contact us online to get a free consultation about your car accident claim.
On This Page:
Most Common Causes of Car Accidents
What did the other driver do to cause your car accident? Did they cut you off without looking? Did they run a red light? Did they speed well beyond the limit and lose control of their car?
Whatever the cause of your car accident, it is important for us to uncover it. Understanding the cause and proving it as such will help establish liability. We want to keep your liability at 0% and the other driver's liability at 100%.
Some of the most common causes of car accidents are:
Drunk driving
Distracted driving like texting and driving
Speeding
Running red lights
Changing lanes without checking mirrors
Exhausted driving
Most Common Injuries Suffered in Car Accidents
The outcome of a car accident can be unpredictable. Some people will be minorly injured in a crash where others are catastrophically injured in the same accident. We can work with medical experts to get a clear idea of the injuries that you suffered in your car accident. Importantly, we need to know how your injuries are going to impact your day-to-day life and comfort.
Injuries that are commonly reported by car accident victims are:
Broken bones
Back injuries
Spinal cord injuries
Whiplash
Traumatic brain injuries (TBI)
Amputations
Our Portsmouth car accident lawyers can also help you if you lost a loved one to a fatal car accident. We know how to manage a wrongful death claim that seeks damages in their name and for your loss.
We're Here to Lead the Way – Call Today
Our car accident attorneys in Portsmouth are here to take your claim and bring it to the next level. We want to create a case that the opposition sees and decides is too tough to fight. With more than 100 years of collective legal experience, you can trust in our abilities to challenge any insurer and pursue any amount of compensation.
Discuss the details of your car accident case during a FREE case evaluation.
Criminal Defense

Have negotiated numerous matters for clients resulting in the prosecutor agreeing not to move forward with the charges.

Criminal Defense

Successfully argued in court many times to exclude evidence obtained in violation of clients' constitutional rights, resulting in dismissal of the charge.

Criminal Defense

Using experts and investigative experience, defeated a felony arson charge for a client.

Criminal Defense

Successfully cross-examined alleged victim, revealing the victim's lies and preventing client from being convicted of felony assault charges.

Criminal Defense

Convinced authorities a client should not be charged with felony "white-collar" criminal charges through advocacy during the criminal investigation stage. This early intervention saved client from significant legal defense costs and loss of reputation damages.
Why Hire Us?
Our Promise to Our Clients
A Reputation for Excellence

We are known for our unwavering commitment to achieving the objectives of our clients.

A Legacy of Successful Results

Our 100-year legacy is built on achieving successful results for our clients.

Committed to the Community

We are proud to support a number of worthy non-profit organizations as a way to give back to our community.

Diverse Breadth of Experience

We provide our clients with full-service legal representation across a variety of practice areas.

Client-Focused Solutions

We pride ourselves on providing our clients with personalized legal representation that meets their unique needs.

Experience on Your Side

Founded in 1908, we put more than 100 years of practice and experience to work for our clients.
A Reputation for Outstanding Service
Developed Client by Client
- Jackie D

- Amanda V.

- Christina L.

- M & T

- Amanda V.