Personal Injury Attorneys in Concord
Committed to Protecting the People in Our Community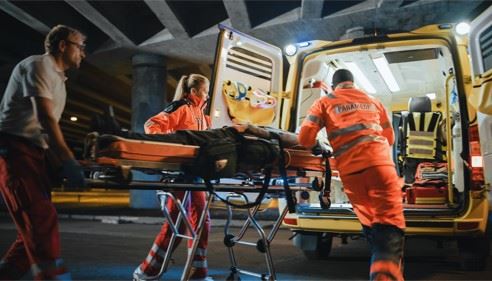 Upton & Hatfield, LLP in Concord is known among our clients and our peers as a personal injury team with as much compassion as we have experience. Given that our law firm was founded in 1908, this is saying something about how much we genuinely care about helping our clients. We see everyone who comes to our firm as a friend and neighbor in need, not a case number or a chance to earn a paycheck. This intentional approach to casework has steered us to countless victories across the decades. Let us see if it can make all the difference for your personal injury case, too.
We can work on a variety of personal injury claims and lawsuits, such as:
Bicycle accidents
Brain injuries
Dog bites
Premises liability
Product liability
Wrongful deaths
And more
Want to work with our Concord injury lawyers? Dial (603) 716-9777 now.
On This Page:
Learn about our client-focused solutions today during an initial consultation with our Concord injury attorneys.
Criminal Defense

Have negotiated numerous matters for clients resulting in the prosecutor agreeing not to move forward with the charges.

Criminal Defense

Successfully argued in court many times to exclude evidence obtained in violation of clients' constitutional rights, resulting in dismissal of the charge.

Criminal Defense

Using experts and investigative experience, defeated a felony arson charge for a client.

Criminal Defense

Successfully cross-examined alleged victim, revealing the victim's lies and preventing client from being convicted of felony assault charges.

Criminal Defense

Convinced authorities a client should not be charged with felony "white-collar" criminal charges through advocacy during the criminal investigation stage. This early intervention saved client from significant legal defense costs and loss of reputation damages.
Why Hire Us?
Our Promise to Our Clients
A Reputation for Excellence

We are known for our unwavering commitment to achieving the objectives of our clients.

A Legacy of Successful Results

Our 100-year legacy is built on achieving successful results for our clients.

Committed to the Community

We are proud to support a number of worthy non-profit organizations as a way to give back to our community.

Diverse Breadth of Experience

We provide our clients with full-service legal representation across a variety of practice areas.

Client-Focused Solutions

We pride ourselves on providing our clients with personalized legal representation that meets their unique needs.

Experience on Your Side

Founded in 1908, we put more than 100 years of practice and experience to work for our clients.
A Reputation for Outstanding Service
Developed Client by Client
- Jackie D

- Amanda V.

- Christina L.

- M & T

- Amanda V.