Portsmouth Motorcycle Accident Attorneys
Rev Up Your Case with a Winning Team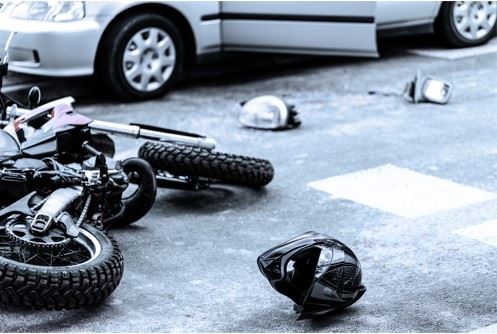 Motorcycle accidents usually result in catastrophic injuries. Motorcycle accident claims usually result in serious frustrations caused by stubborn insurance companies – unless you approach the situation with the assistance, guidance, and representation of a professional Portsmouth motorcycle accident lawyer.
Come to Upton & Hatfield, LLP to talk with legal professionals who are invested in your future wellbeing and comfort as much as you are. We are proud to be the team that locals trust for difficult and high-stakes cases. You are not a case number here; you are a friend in need. This dedication to personalized and compassionate legal services is what has led us to so many outstanding case results in our firm's 110+ years.
We bring unmatched experience to every case. Call (603) 716-9777 now to speak with our motorcycle accident attorneys in Portsmouth.
On This Page:
Common Causes of Motorcycle Accidents
Every motorcyclist knows that they need to be careful whenever they are on the road. A single mistake can cause a terrible wreck. But not every motorist knows they have to safely share the road with motorcyclists, which is why so many motorcycle accident causes can be traced back to the negligence of a driver, not a rider.
Negligent drivers cause motorcycle accidents by doing the following:
Speeding and tailgating a motorcycle
Turning left in front of an approaching motorcycle
Changing lanes or merging without checking blind spots
Opening a door into traffic without checking the mirror
Many of these forms of negligence stem from driver inattention and the unfortunate reality that many drivers can look directly at a motorcycle and not "see" it. Drivers train their eyes to see large vehicles with two headlights and four wheels. When quickly glancing in a blind spot or mirror, it is unfortunately simple for a driver to not even register a motorcycle there because they were not looking for it.
Common Motorcycle Accident Injuries
Many of the people who come to our Portsmouth firm with motorcycle accident claims are living with the aftermath of life-changing injuries. We know we have to fight tirelessly for them because so much of their future livelihood could depend entirely on what we are able to accomplish with their case. Whether your injuries are serious or severe, our team is here to help secure compensation for them.
Common motorcycle accident injuries suffered by riders include:
Traumatic brain injury (TBI)
Spinal cord damage (paralysis)
Multiple broken bones
Road rash
Visible scarring
Internal organ damage
The ideal outcome of your case will be to secure the most compensation possible. We don't want to leave a single medical bill unpaid and not even one missing paycheck unfulfilled. If we can back your case with strong, convincing evidence, then we might be able to convince the insurance company to offer a fair settlement, which would not require your case to escalate to a lawsuit. Although, we are always prepared to go to court for litigation if that is the best route for our client. Insurers around the state know our name for good reason.
Why Are Motorcycle Accidents So Deadly?
Without a protective chassis around them, motorcyclists are entirely exposed while riding and vulnerable to injuries in a crash. To make matters worse, motorcycles weigh far less than the average passenger car and significantly less than a commercial van or big rig. At even low speeds, the disparity of their weight will cause the worst part of an impact to throw the motorcycle and motorcyclist alike. For these reasons, motorcycle accidents are extremely dangerous, and motorcyclists are up to 25 times more likely to pass away from a crash when compared to a driver in a similar impact.
If You Weren't Helmeted, Can You Sue?
Always wear a motorcycle helmet when you are riding, and your passengers should always be helmeted, too. You might ride to states that don't have a motorcycle helmet mandate, but you should still keep your helmet on. A properly sized helmet not only helps protect your head but also helps protect your finances in case of a crash.
When a motorcyclist wipes out without a helmet, the insurance company will eventually get word of it when working on the claim. As soon as it does, the company will use that knowledge to try to deny paying for any medical treatment related to their head injury. The company will argue that the motorcyclist was personally liable for their head injury since they willingly chose to ride without a helmet while assuming the risk of a head injury if they crashed.
The frustrating thing is that this argument is not without merit, so it will add challenges to your case if you crash without wearing a helmet. You can, however, file a claim or a lawsuit if someone else caused your motorcycle accident, helmeted or not.
Want to Start a Claim? Call Our Firm
We can help you understand more about your legal options after a motorcycle accident in Portsmouth, and you don't even have to pay us. We offer FREE consultations to inquiring clients. During this conversation with our team, we can assess your case and help you decide if it is worth pursuing. If we believe you could have a winning claim on your hands, then we will advise you about the next steps, which might be the first step towards a significant financial recovery.
Want to know more? Our motorcycle accident lawyers in Portsmouth can tell you more. Call (603) 716-9777 now.
Why Hire Us?
Our Promise to Our Clients
A Reputation for Excellence

We are known for our unwavering commitment to achieving the objectives of our clients.

A Legacy of Successful Results

Our 100-year legacy is built on achieving successful results for our clients.

Committed to the Community

We are proud to support a number of worthy non-profit organizations as a way to give back to our community.

Diverse Breadth of Experience

We provide our clients with full-service legal representation across a variety of practice areas.

Client-Focused Solutions

We pride ourselves on providing our clients with personalized legal representation that meets their unique needs.

Experience on Your Side

Founded in 1908, we put more than 100 years of practice and experience to work for our clients.
A Reputation for Outstanding Service
Developed Client by Client
- Jackie D

- Amanda V.

- Christina L.

- M & T

- Amanda V.