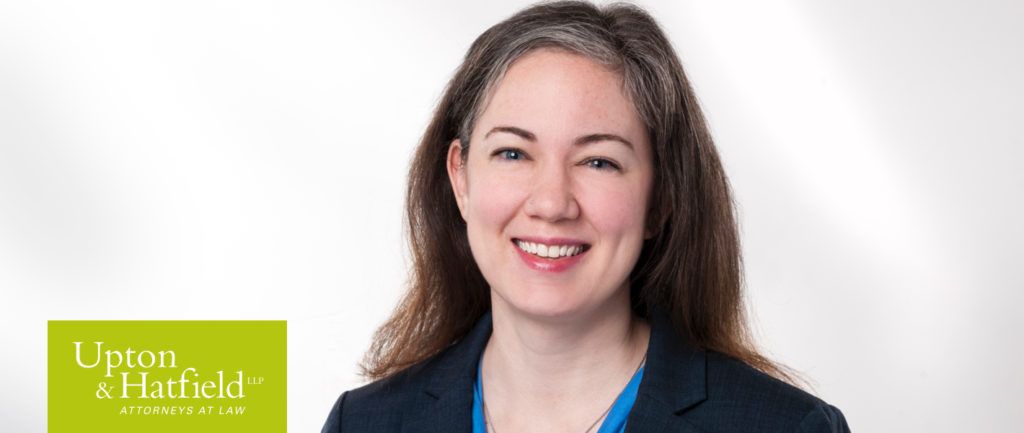 PORTSMOUTH, NH—June 1, 2018—Upton & Hatfield, LLP, Partner Russell F. Hilliard presented the Loyal Order of the Rock to Attorney Susan A. Lowry at the Rockingham County Bar Association's Annual Meeting, May 22, 2018, at the Portsmouth Country Club.
Hilliard delivered a moving speech when presenting the award given to practitioners who have lived in or practiced law in Rockingham County for a significant amount of time and are well respected by their clients, colleagues, and community.
"It is my privilege to announce and recognize the lawyer we are inducting tonight into the Order," Hilliard said, noting Lowry's rich and varied background as a rugby player, a former insurance agent, and nightclub manager in college. "Susan, we are indebted to you, our colleagues at U&H are proud of you, and we are pleased to induct you into the Loyal Order of the Rock."
Lowry began her legal career as a New Hampshire Public Defender (NHPD) and practiced for seven years at Boynton Waldron before joining Upton & Hatfield, LLP last year. Throughout her career, Lowry has demonstrated her love of the law through her dedication to clients, community, colleagues, and the very association presenting her with the award, according to Hilliard. Her work with the Rockingham County Bar Association includes eight years as a board member, five years as treasurer, and two years as president.
Hilliard noted that Lowry is accomplished in both the civil and criminal arenas, and brings an intellectual curiosity and absolute joy in researching and discussing cases, theories, and strategies, before trying the cases in court.
"I know from working with her that she actually smiles when encountering a decision that troubles or perplexes her, as if this is the pleasure we should all derive from a difficult issue," Hilliard said. "Her enthusiasm has affected other directors and officers, and we have all been the beneficiaries of this wonderful dynamic."