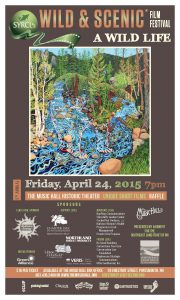 Upton & Hatfield, LLP is pleased to sponsor The Wild & Scenic Film Festival for its 5th year at The Music Hall in Portsmouth, New Hampshire on April 24, 2015 at 7 PM!
Considered one of the nation's premiere environmental and adventure film festivals, the Wild & Scenic Film Festival combines stellar film making, beautiful cinematography and first-rate storytelling to inform, inspire and ignite solutions to restore the earth. This local showing is a collection of unique short films that explore the current environmental issues and celebrations of our planet.
Justin Richardson, a partner in Upton & Hatfield, LLP's Environmental and Municipal Law practice groups, shared his enthusiasm for the event.  "The Wild & Scenic films are as entertaining as they are informative.  I look forward to this event every year and it keeps getting better!"
Upton & Hatfield has a long history of protecting New Hampshire's wild and scenic places.  In 1974 Fred Upton obtained an historic ruling re-designating the Franconia Notch Parkway to protect Franconia Notch, creating the scenic parkway we know today. Society for Protection of New Hampshire Forests v. Brinegar, 381 F. Supp. 282, 289 (1974).   In 2010, Robert Upton and Justin Richardson helped the City of Nashua acquire nearly one thousand acres of land and easements for protection of its water supply.  Appeal of Pennichuck Water Works, 160 N.H. 18 (2010).  More recently, Upton & Hatfield, LLP obtained a ruling protecting 71 acres of the Lubberland Creek salt marsh that experts described as "one of the most pristine and unaltered wetland/wildlife habitats in the Great Bay system."  The firm has been involved in numerous other conservation and environmental projects throughout New Hampshire.
Tickets available at The Music Hall Box Office in the Historic Theater, 28 Chestnut Street, Portsmouth, NH, 603-436-2400, or www.themusichall.org