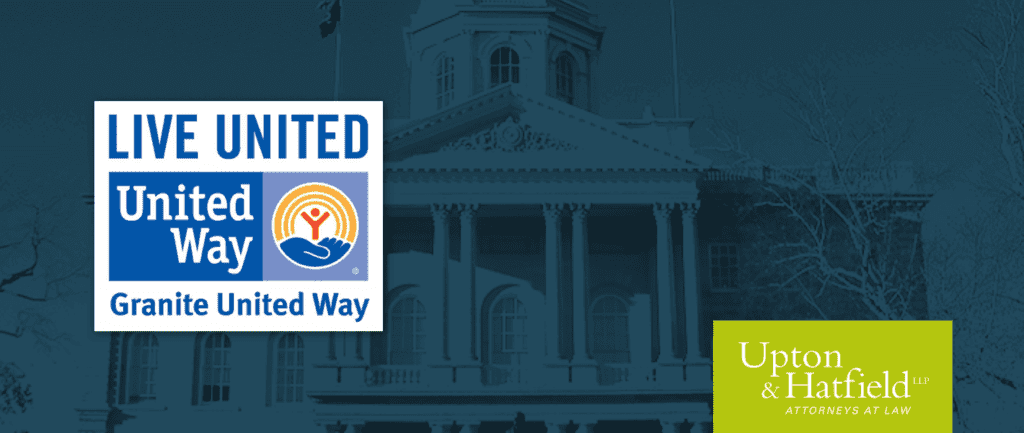 CONCORD, NH – February 22, 2017 – Upton & Hatfield, LLP, is proud to co-sponsor the Granite United Way Leadership Luncheon held on March 7, 2016.
Granite United Way was formed by the merger of numerous local United Way organizations. In communities across America, approximately 1,200 United Ways improve lives by mobilizing the caring power of their communities. More than fundraisers, United Ways are partners in change, working with a broad range of people and organizations to identify and resolve pressing community issues. Granite United Way works closely with volunteer leadership to invest donor dollars in the areas of the community with the most critical needs: education, income, and health.
About Upton & Hatfield LLP
Established in 1908, Upton & Hatfield, LLP, has a long tradition of providing legal services in New Hampshire. The firm has offices in Concord, Hillsborough, and Portsmouth and represents individuals, businesses, and municipalities in commercial transactions and litigation, business formation and acquisitions, bankruptcy and creditors' rights, employment law (including sexual harassment and wrongful termination), real estate, insurance, medical malpractice, personal injury, municipal and school law, family law, estate planning and criminal defense. Upton & Hatfield is also committed to active community involvement and public service.