New Hampshire Truck Accident Attorneys
Serious Counsel After a Large Truck Accident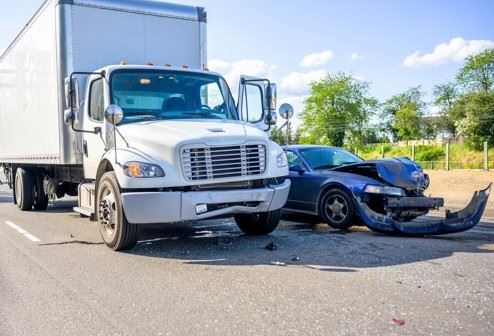 It is important to take care of yourself after being injured in a truck accident. But it is arguably just as important to take steps to build a strong truck accident claim capable of securing every penny of compensation you deserve.
While you mostly need to take care of your health on your own, you can leave all of the casework for your injury claim up to our capable and experienced team of New Hampshire truck accident lawyers from Upton & Hatfield, LLP.
Backed by more than 100 years of personal injury practice history, our law firm is easily one of the most recognizable in New Hampshire. Upton & Hatfield, LLP hasn't been able to keep our doors open for so long by providing just any sort of legal service.
No, we have done it by dedicating ourselves to achieving excellence for our clients, supporting our local communities, and standing up to major insurance companies where other law firms would back down.
You are invited to see the difference we can make for your truck accident claim. Contact us now.
What Are Common Causes of Truck Accidents?
What percentage of accidents are caused by trucks? The question might be straightforward, but there is no clear answer due to all the varying details within each crash.
However, the Insurance Institute for Highway Safety (IIHS) has estimated before that at least 10% of all fatal motor vehicle accidents involved a large commercial truck. This percentage is concerning because big rigs and semi-trucks do not comprise 10% of all vehicles on the road.
The statistic leads to another question: What is happening to cause so many truck accidents? Why are so many commercial trucks crashing and seemingly so often? The answers can help establish liability in a truck accident claim.
Four of the most common causes of truck accidents are:
Exhaustion: As shocking as it might seem, the Federal Motor Carrier Safety Administration (FMCSA) actually allows the average commercial truck driver to drive up to 11 hours a day during a 14-hour shift and a 70-hour workweek. Not surprisingly, many truck accidents involve a truck driver who was fatigued or asleep behind the wheel at the time of the collision.
Impairment: In order to combat fatigue, some truckers are tempted to use drugs or alcohol to cause temporary stimulation. Of course, drug and alcohol use behind the wheel is never a safe practice because intoxication and impairment can be more dangerous than exhaustion.
Speeding: Truck drivers are usually not paid by the hour. Instead, they are paid per mile driven. To try to maximize their paychecks or to complete a lengthy shift early without a pay deduction, some truck drivers break posted speed limits for commercial trucks, putting everyone else on the road in severe danger.
Brake failures: Truck part failures are a serious problem, and perhaps none are as dangerous as brake failures. The brakes on a commercial truck have the difficult task of bringing an 80,000-pound vehicle to a complete stop in a short distance, which puts immense strains on them. Heavier loads put greater strain on the brakes, so overloaded trailers pose a greater risk of a brake failure.
What Is The Typical Truck Accident Settlement or Verdict?
The average truck accident will result in tremendous damage to smaller vehicles around it, possibly causing life-changing injuries. Therefore, significant financial damage often follows.
Damages that could apply to your truck accident claim are:
Current and future medical treatments
Future rehabilitative care
Vehicle repair or replacement
Lost wages
Pain, suffering, and disability
Lessened enjoyment of life
Our truck accident attorneys in New Hampshire can fight for a maximized compensation amount on your behalf. If your case can be settled without jeopardizing your compensation amount, then we will explore this option. Settlements usually take much less time to close a case than going to court.
However, we are also capable of taking your truck accident case to litigation in pursuit of a fair verdict. When the opposition does not want to settle or accept any liability, courtroom litigation might be the only way to seek justice and compensation on your behalf.
Go Head-to-Head with Trucking Companies
Do not let a trucking company convince you that you do not have a case after being in a serious truck accident. They will probably try to coerce you into taking a lowball settlement while saying that there is no way you can get more.
Stand up for yourself by teaming up with Upton & Hatfield, LLP! Let our truck accident lawyers in New Hampshire know what happened during an initial consultation, and we can let you know what to do next.
We have offices throughout New Hampshire. Call (603) 716-9777 to find the one nearest you.
Meet Our Attorneys
Diverse Experience, Personalized Attention
Personal Injury Personal Injury

Husband and Wife were killed in a motor vehicle – Settlement after suit filed - $1,250,000

Personal Injury Personal Injury

Client suffered significant burn injuries on her legs as result of vendor's negligence – Settlement after suit filed - $900,000

Personal Injury Personal Injury and Worker's Compensation

Motor vehicle collision while on the job – Settlement and Worker's Compensation Lump Sum Settlement Total - $340,000

Personal Injury Personal Injury

Client slipped and fell on ice injuring knee – Settlement prior to suit - $232,000

Personal Injury Personal Injury

Ladder collapsed and client fell injuring knee – Settlement after filing suit - $225,000

Personal Injury Personal Injury

Client suffered a degloving injury in a motor vehicle collision – Settlement after filing suit - $130,000

Personal Injury Personal Injury

Client fractured left leg in motor vehicle collision – Settled for full extent of insurance coverage - $100,000

Personal Injury Personal Injury

Client suffered head injury in motor vehicle collision and lost sense of taste and smell – Settled for full extent of insurance coverage - $100,000

Personal Injury Personal Injury

Lead paint poisoning – Settled after filing suit - $100,000

Personal Injury Personal Injury

Client suffered multiple injures in a motor vehicle collision – Settled prior to filing suit - $100,000

Personal Injury Personal Injury

Client suffered a lower leg injury when he slipped and fell on ice – Verdict - $97,000

Personal Injury Motorcycle Accident

We represented the family of an operator of a motorcycle killed by an elderly man at an intersection who claimed the motorcycle was being operated at an excessive speed.

Personal Injury Dog Bite

We represented a seven-year-old boy bitten by a neighbor's dog. Medical bills were under $200. The jury returned a verdict of $40,000 after we proved the owner lied about the dog's prior history.

Personal Injury Slip & Fall

We represented a woman who slipped and fell on ice in the parking lot at the Mall. She suffered a broken ankle. The case settled for $62,000 before trial.
Why Hire Us?
Our Promise to Our Clients
A Reputation for Excellence

We are known for our unwavering commitment to achieving the objectives of our clients.

A Legacy of Successful Results

Our 100-year legacy is built on achieving successful results for our clients.

Committed to the Community

We are proud to support a number of worthy non-profit organizations as a way to give back to our community.

Diverse Breadth of Experience

We provide our clients with full-service legal representation across a variety of practice areas.

Client-Focused Solutions

We pride ourselves on providing our clients with personalized legal representation that meets their unique needs.

Experience on Your Side

Founded in 1908, we put more than 100 years of practice and experience to work for our clients.
A Reputation for Outstanding Service
Developed Client by Client
- Jackie D

- Amanda V.

- Christina L.

- M & T

- Amanda V.