New Hampshire Dog Bite Lawyer
File a Lawsuit After a Vicious Dog Attack
Were you attacked and bitten by a stranger's or neighbor's dog? Call Upton & Hatfield, LLP at (603) 716-9777 right away to speak with our New Hampshire dog bite lawyers!
Using our 100+ years of legal experience, we can help you understand your options to seek compensation and bring a fight to any opposing insurance companies.
Injured in a dog attack? Our New Hampshire dog attack lawyers are standing by to give you the help you need. Call today to discuss the incident in a consultation.
New Hampshire Dog Bite Laws
New Hampshire uses strict liability laws for dog bite cases. Under this system of rules, dog owners are responsible for any harm caused by their dogs unless they can argue otherwise. Unlike in one-bite law states, a dog's owner can still be fully liable for the damages caused by a dog even when they had no reason to suspect their dog would ever hurt someone.
In other words, if a dog does not have a history of aggression, but it bites or attacks someone all the same, then the dog owner can be held liable due to the strict liability rule.
What to Do If a Dog Bites You
An animal attack is a jarring experience that can leave you bewildered and afraid after it ends. You will probably not have many ideas as to what to do next. If you want to file a strong personal injury claim against the dog's owner, though, then there are a few steps you should take as soon as possible.
After a dog bites you, do the following:
Get contact information from the dog's owner
Take pictures of the dog and where you were attacked
See a doctor for a checkup the same day
Talk to our attorneys once your checkup is complete
If you are able to take all of these steps, then the dog bite claim we can create on your behalf will be stronger. It is worth repeating that you should please go see a doctor in an urgent care facility if you have not already seen one. Without a medical record showing your injuries and when they occurred, your claim will be weakened.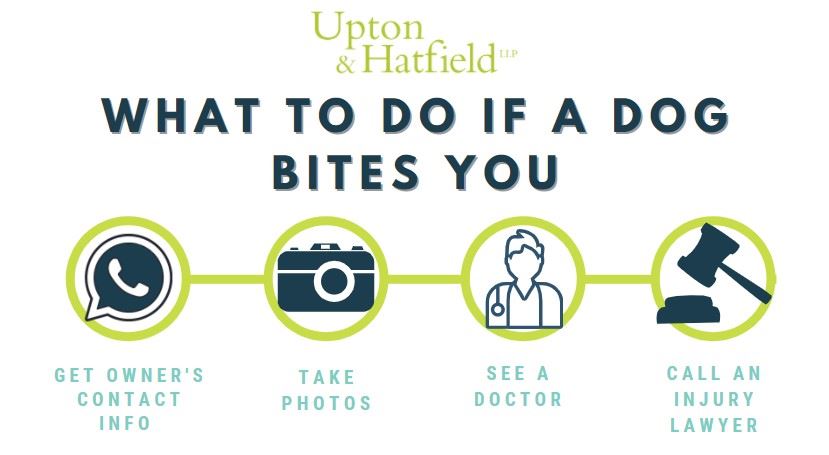 Dog Bite FAQ
How Bad Does a Dog Bite Have to be to Sue?
While it may seem silly to sue for a minor dog bite, that doesn't mean that it can't or shouldn't be done. Even minor dog attacks can have negative physical (and even emotional) effects on the victim. If you are uncertain whether you have grounds for a case or not, contact Upton & Hatfield today to discuss your incident in a free consultation.
Be sure to take photos of your injuries and write down the name of the owner so that you can identify them later on. Even if you have suffered minor injuries, you should still see a medical professional to ensure your injuries are treated properly.
Do Dog Bites Have to Be Reported in New Hampshire?
While there is no law on the books that requires individuals to report dog bites, it's always better to report the incident to the authorities as soon as possible.
This can help hold the dog owner accountable for providing necessary information for treating your injuries (i.e. information about the dog's vaccinations, etc.) Reporting the incident can also help ensure that the animal is prevented from hurting anyone else by removing it from the area and keeping it somewhere where it can be closely monitored for diseases such as rabies. To report your dog bite in New Hampshire, you should contact the nearest animal control center.
How Much Money Can You Get from a Dog Bite Lawsuit?
Do not be surprised if the dog owner tries to tell you that they don't have any money to spare to pay for your damages. They probably are not lying, but they are also not seeing the full picture of dog bite liability.
If a dog owner has homeowners' insurance or renter's insurance, then it is likely that the policy will provide damages for a dog bite that happens on their property or, sometimes, off their property.
The amount of money that you can get from a dog bite lawsuit will depend on the limits of the applicable insurance policy. Of course, the extent of your injuries and necessary medical care will also change the value of your claim.
Damages that might apply for your dog bite claim are:
Past medical treatments
Future medical care
Lost wages
Pain and suffering
Many people who are bitten by an aggressive dog will experience post-traumatic stress disorder (PTSD) symptoms for years. Seeing a dog of the same breed can trigger an anxiety attack, for example. If you are suffering from PTSD due to a violent dog attack, then we can also pursue additional damages related to psychological trauma and therapy.
How Long Do You Have to Sue After a Dog Bite?
New Hampshire uses a three-year statute of limitations for dog bite claims, which almost-always starts on the date of the dog attack. If you wait longer than three years to file a claim, then it will be thrown out by the court before it can advance.
However, there is often nothing to gain from waiting a long period of time before filing a claim. Even though you have three years, you should talk to our attorneys and work on a claim within a few days or weeks at most, which is when the details of the dog attack will be freshest in your memory.
How Do You Know if a Dog Bite is Serious?
Not all dog bites require serious medical attention. However, it's always better to be safe than sorry. Here are some warning signs to watch out for that indicate a trip to the emergency room may be in order:
The wound won't stop bleeding
The bite area is red or swollen
The victim develops a fever
The bite area feels warm to the touch
The wound appears to be a deep puncture wound
The area becomes stiff and difficult to move
The pain continues for more than 24 hours
There is drainage coming from the bite area
Call Upton & Hatfield, LLP Today
Our dog bite attorneys in New Hampshire are standing by to help you after you or a family member are bitten, mauled, or attacked by an unruly canine.
We know you are going through a lot already, which is why we want to do everything we can to make your dog bite claim or lawsuit simpler for you. Start with a free case evaluation to learn more without paying for anything upfront.
See what 100+ years of legal experience can do. Call our dog bite lawyers in New Hampshire (603) 716-9777 now. We have offices in Concord, Peterborough, and Portsmouth.
Recommended Blog Posts:
Meet Our Attorneys
Diverse Experience, Personalized Attention
Personal Injury Personal Injury

Husband and Wife were killed in a motor vehicle – Settlement after suit filed - $1,250,000

Personal Injury Personal Injury

Client suffered significant burn injuries on her legs as result of vendor's negligence – Settlement after suit filed - $900,000

Personal Injury Personal Injury and Worker's Compensation

Motor vehicle collision while on the job – Settlement and Worker's Compensation Lump Sum Settlement Total - $340,000

Personal Injury Personal Injury

Client slipped and fell on ice injuring knee – Settlement prior to suit - $232,000

Personal Injury Personal Injury

Ladder collapsed and client fell injuring knee – Settlement after filing suit - $225,000

Personal Injury Personal Injury

Client suffered a degloving injury in a motor vehicle collision – Settlement after filing suit - $130,000

Personal Injury Personal Injury

Client fractured left leg in motor vehicle collision – Settled for full extent of insurance coverage - $100,000

Personal Injury Personal Injury

Client suffered head injury in motor vehicle collision and lost sense of taste and smell – Settled for full extent of insurance coverage - $100,000

Personal Injury Personal Injury

Lead paint poisoning – Settled after filing suit - $100,000

Personal Injury Personal Injury

Client suffered multiple injures in a motor vehicle collision – Settled prior to filing suit - $100,000

Personal Injury Personal Injury

Client suffered a lower leg injury when he slipped and fell on ice – Verdict - $97,000

Personal Injury Motorcycle Accident

We represented the family of an operator of a motorcycle killed by an elderly man at an intersection who claimed the motorcycle was being operated at an excessive speed.

Personal Injury Dog Bite

We represented a seven-year-old boy bitten by a neighbor's dog. Medical bills were under $200. The jury returned a verdict of $40,000 after we proved the owner lied about the dog's prior history.

Personal Injury Slip & Fall

We represented a woman who slipped and fell on ice in the parking lot at the Mall. She suffered a broken ankle. The case settled for $62,000 before trial.
Why Hire Us?
Our Promise to Our Clients
A Reputation for Excellence

We are known for our unwavering commitment to achieving the objectives of our clients.

A Legacy of Successful Results

Our 100-year legacy is built on achieving successful results for our clients.

Committed to the Community

We are proud to support a number of worthy non-profit organizations as a way to give back to our community.

Diverse Breadth of Experience

We provide our clients with full-service legal representation across a variety of practice areas.

Client-Focused Solutions

We pride ourselves on providing our clients with personalized legal representation that meets their unique needs.

Experience on Your Side

Founded in 1908, we put more than 100 years of practice and experience to work for our clients.
A Reputation for Outstanding Service
Developed Client by Client
- Jackie D

- Amanda V.

- Christina L.

- M & T

- Amanda V.