New Hampshire Brain Injury Attorneys
Traumatic Brain Injury Claims & Lawsuits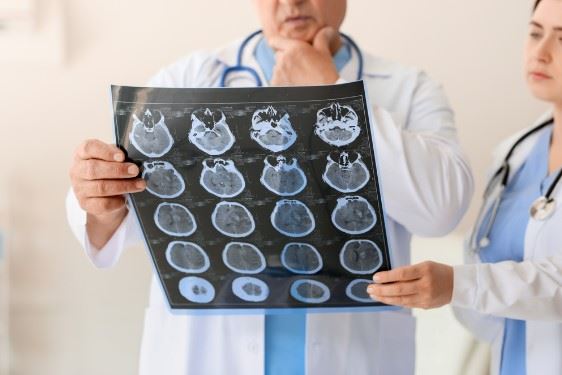 A traumatic brain injury (TBI) will likely cause symptoms and complications for the rest of your life. When pursuing compensation and justice for it, choose a legal team that knows what is on the line if your case doesn't succeed.
Upton & Hatfield, LLP has been there for people in difficult, life-changing situations since 1908. Across our decades of legal service, we have fought all sorts of insurance companies and won newsworthy cases.
Fight for the compensation you need to live comfortably after a brain injury. Call (603) 716-9777.
How Much is a Traumatic Brain Injury Case Worth?
It is understandable to wonder what your traumatic brain injury claim or lawsuit could be worth. You need compensation to get your life back to something close to normal.
Will you be offered a fair settlement amount? If your case goes to litigation, will a judge or jury give you more?
The answer to these questions will depend on the details that comprise your case. Some brain injury claims are worth much more than others. However, many TBI claims do have a high value because the damage caused by a brain injury is often so extensive that the financial ramifications are as well.
Damages that will add to the value of your brain injury case are:
Medical costs
Future care and therapies
Lost wages
Reduced income
Shortened life expectancy
New disabilities
Can the Brain Recover from Damage?
Brain cells are poor when it comes to regenerating after an injury. Even "mild" brain injuries like those caused by a temporary concussion might never fully heal. Oftentimes, brain injuries only get worse with time because the scarred tissue is more vulnerable to further harm.
For example, bumps to the head that might do nothing to the average person could cause severe injury exacerbation in someone who has already had a TBI.
When calculating the damage you are owed through a TBI claim, it is crucial to know how long your brain injury will last and how it will affect you. Our team can work with medical experts like neurologists to get a full understanding of your TBI and the care you will need far into the future.
What was the Cause of Your Traumatic Brain Injury?
Brain injuries can be caused by:
Blunt force trauma
Penetrating injuries
Concussive forces
Asphyxiation
In day-to-day situations, car accidents are the most likely causes of TBIs. Slip and fall accidents are also common causes of brain injuries, especially among elders in nursing homes. Identifying the cause of your brain injury will help lead us to proving liability for it.
How Do You Prove Liability for a Brain Injury?
To prove liability in your traumatic brain injury case, we will want to get as much evidence as possible. Insurance companies working on the other side know that there could be a massive amount of compensation owed to you, so they will be working tirelessly to find counterevidence.
We like to stay one step ahead by beginning a claim as soon as possible, so don't hesitate to reach out to our firm shortly after being in an accident that caused a head injury.
Proving liability could be done through:
Medical records
Expert opinions
First responder reports
Eyewitness statements
Can You Sue for a Concussion?
As long as you can prove that your concussion was caused by another person's negligence or intent to harm you, you have grounds to pursue a personal injury claim. In some cases, you may also be able to claim damages for something called post-concussion syndrome if your symptoms persist even after you are expected to have recovered from your injuries. Want to know more? Reach out to our team!
Discuss Your Legal Options with Upton & Hatfield, LLP
Starting a traumatic brain injury claim could be the most difficult step about the entire process because it can seem so daunting to enter a legal battle in pursuit of so much compensation. Our New Hampshire brain injury attorneys would like to make this process as stress-free for you as possible by offering our tried-and-true legal services.
We have been around for more than a century, so you can be confident that we will know the right steps to progress your case. All the while, we want you to rest and focus on yourself and your recovery.
Discover our legacy of success. Contact our firm now.
Meet Our Attorneys
Diverse Experience, Personalized Attention
Personal Injury Personal Injury

Husband and Wife were killed in a motor vehicle – Settlement after suit filed - $1,250,000

Personal Injury Personal Injury

Client suffered significant burn injuries on her legs as result of vendor's negligence – Settlement after suit filed - $900,000

Personal Injury Personal Injury and Worker's Compensation

Motor vehicle collision while on the job – Settlement and Worker's Compensation Lump Sum Settlement Total - $340,000

Personal Injury Personal Injury

Client slipped and fell on ice injuring knee – Settlement prior to suit - $232,000

Personal Injury Personal Injury

Ladder collapsed and client fell injuring knee – Settlement after filing suit - $225,000

Personal Injury Personal Injury

Client suffered a degloving injury in a motor vehicle collision – Settlement after filing suit - $130,000

Personal Injury Personal Injury

Client fractured left leg in motor vehicle collision – Settled for full extent of insurance coverage - $100,000

Personal Injury Personal Injury

Client suffered head injury in motor vehicle collision and lost sense of taste and smell – Settled for full extent of insurance coverage - $100,000

Personal Injury Personal Injury

Lead paint poisoning – Settled after filing suit - $100,000

Personal Injury Personal Injury

Client suffered multiple injures in a motor vehicle collision – Settled prior to filing suit - $100,000

Personal Injury Personal Injury

Client suffered a lower leg injury when he slipped and fell on ice – Verdict - $97,000

Personal Injury Motorcycle Accident

We represented the family of an operator of a motorcycle killed by an elderly man at an intersection who claimed the motorcycle was being operated at an excessive speed.

Personal Injury Dog Bite

We represented a seven-year-old boy bitten by a neighbor's dog. Medical bills were under $200. The jury returned a verdict of $40,000 after we proved the owner lied about the dog's prior history.

Personal Injury Slip & Fall

We represented a woman who slipped and fell on ice in the parking lot at the Mall. She suffered a broken ankle. The case settled for $62,000 before trial.
Why Hire Us?
Our Promise to Our Clients
A Reputation for Excellence

We are known for our unwavering commitment to achieving the objectives of our clients.

A Legacy of Successful Results

Our 100-year legacy is built on achieving successful results for our clients.

Committed to the Community

We are proud to support a number of worthy non-profit organizations as a way to give back to our community.

Diverse Breadth of Experience

We provide our clients with full-service legal representation across a variety of practice areas.

Client-Focused Solutions

We pride ourselves on providing our clients with personalized legal representation that meets their unique needs.

Experience on Your Side

Founded in 1908, we put more than 100 years of practice and experience to work for our clients.
A Reputation for Outstanding Service
Developed Client by Client
- Jackie D

- Amanda V.

- Christina L.

- M & T

- Amanda V.