New Hampshire Motorcycle Accident Attorneys
Legal Allies for Motorcycle Riders Across the State
Far too often, motorcyclists are overlooked after being in a bad crash caused by another motorist. Insurance companies like to try to pin the blame on them, even all the evidence says the contrary. At Upton & Hatfield, LLP, we know that assuming a motorcycle rider is reckless because of their choice of vehicle is as incorrect as it is damaging to the civil justice system. Our tenacious New Hampshire motorcycle accident lawyers would be honored to get the chance to stand up for you and demand full compensation in your name, just as we have done for personal injury clients since our firm first opened its doors in 1908.
Get a free consultation to begin. Call (603) 716-9777.
Liability Issues in Motorcycle Accidents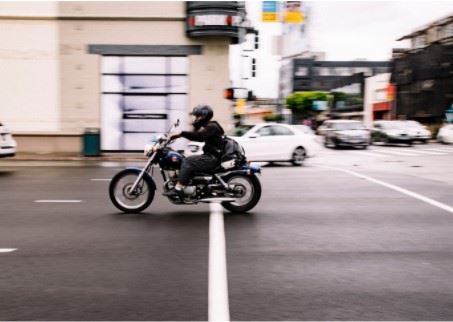 Proving liability in a motorcycle accident claim can be difficult for several reasons. Firstly, the responding insurance company will not want to cooperate. Injuries in a motorcycle accident are often severe and life-changing, like traumatic brain injuries (TBI) and spinal cord injuries. Treating such injuries accrues significant medical bills that the insurer will want to avoid paying using any method they can manage.
Secondly, riding a motorcycle requires the rider to follow new and additional rules that other motorists do not need to worry about. If there is a lapse in the following of these motorcycle-specific rules, then liability can be shifted onto the motorcyclist.
Three questions about motorcycle liability rules you might have had before:
Do you need a motorcycle license in New Hampshire? Yes, you need to have a motorcycle license or permit issued by the State of New Hampshire to lawfully ride your motorcycle. Not having one will make it easier for the defending insurance company to argue that you were not fully in control of your vehicle due to a lack of experience or training.
Is lane splitting legal in New Hampshire? Lane splitting is illegal in New Hampshire. It is only legal in California. If you were lane splitting when you got into a crash, then liability will likely be placed on you for the unlawful riding habit.
Is there a motorcycle helmet law in New Hampshire? You are not lawfully required to wear a motorcycle helmet in New Hampshire if you are an adult with a valid motorcycle license. However, not wearing a helmet can be argued that you accepted the risk of severe injury in the event of a crash, which will increase your liability. For your safety and the validity of your injury claim, please always wear a helmet.
Where Do Most Fatal Motorcycle Accidents Happen?
The majority of fatal motorcycle accidents occur at intersections in which another motorist is turning left through it. Based on some estimates, at least 40% of all motorcycle-car collisions happen under these circumstances. Unfortunately, many of those crashes prove to be fatal or severe enough to cause lifelong disabilities.
The issue is commonly uncovered to be a lack of attention on behalf of the motorist. While approaching an intersection with an unprotected left turn, the average motorist only looks for approaching vehicles the size of a car or larger. Smaller vehicles like a motorcycle are effectively invisible to an inattentive motorist, who can look directly at the motorcycle yet not register it. They begin to take the left turn right in front of the motorcyclist, who has mere instants to try to slow down, avoid the car, or minimize their injuries with a controlled crash.
What is the Most Common Cause of Motorcycle Accidents?
Statistics show that some of the most common causes of motorcycle accidents include:
Cars making left-hand turns and failing to notice the motorcyclist beside them
Lane splitting
Speed/alcohol use
Road hazards including loose dirt or gravel, road obstructions, etc.
What is the Average Payout for a Motorcycle Accident?
A payout for a motorcycle accident will be difficult to predict or calculate at first. Your attorney will need to know the extent of your current damages and what your doctor predicts will be necessary to treat you far into the future. Furthermore, you are owed noneconomic damage for your pain and suffering. Your motorcycle accident attorney in New Hampshire will usually decide a fair amount to demand based on your total economic damages and just how worsened your life has become because of the accident.
If you work with a law firm that promises a certain settlement amount for your motorcycle accident claim soon after you first speak with them, then it is time to get a second opinion about your case. No lawyer can confidently make that prediction, and you should not be misled for any reason. At Upton & Hatfield, LLP, we are always honest and realistic with our clients from the first moment they speak with us.
What Injuries Can You Get from a Motorcycle Accident?
Motorcycle accidents often result in very serious injuries. This is because they offer little protection when it comes to collisions. Unlike with cars or trucks, motorcycles have no restraints to keep riders on in a crash. In most collisions motorcyclists are flung from their bike and sustain serious injuries upon impact:
Traumatic brain injuries
Spinal cord injuries
Broken bones
Road rash and scarring
Disfiguring
Concussions
These types of injuries are referred to as "catastrophic" because they often have a life-changing effect on the victim and require extensive treatment and recovery. Sometimes a full recovery is impossible.
What Should You Do After a Motorcycle Accident?
Following a motorcycle accident, it's important that you take certain steps in order to preserve evidence for your case:
Get examined by a medical professional immediately after your accident - this is important because latent injuries may appear several months down the road and having a record of seeing a medical professional can help back up your case
Keep a journal of any medical treatment you receive, as well as your healing process - This can be good evidence to back up your request for compensation for specific damages
Get a copy of the police accident report - If your case goes to trial this can help provide evidence that you were not at fault for the incident
Take photos at the scene of the accident of your injuries and any property damage
Track down the contact information for any potential witnesses of the accident - Recorded accounts of witnesses can help prove your case in court as well
Put 100+ Years of Experience on Your Side
Get your motorcycle accident claim in New Hampshire rolling in the right direction by calling (603) 716-9777 now. Our motorcycle accident lawyers in New Hampshire are standing by to hear from you and explain your options during a free case evaluation.
All initial meetings are confidential and no-obligation to hire us as your lawyers, so you have every reason to contact us today!
Recommended Reading:
Meet Our Attorneys
Diverse Experience, Personalized Attention
Personal Injury Personal Injury

Husband and Wife were killed in a motor vehicle – Settlement after suit filed - $1,250,000

Personal Injury Personal Injury

Client suffered significant burn injuries on her legs as result of vendor's negligence – Settlement after suit filed - $900,000

Personal Injury Personal Injury and Worker's Compensation

Motor vehicle collision while on the job – Settlement and Worker's Compensation Lump Sum Settlement Total - $340,000

Personal Injury Personal Injury

Client slipped and fell on ice injuring knee – Settlement prior to suit - $232,000

Personal Injury Personal Injury

Ladder collapsed and client fell injuring knee – Settlement after filing suit - $225,000

Personal Injury Personal Injury

Client suffered a degloving injury in a motor vehicle collision – Settlement after filing suit - $130,000

Personal Injury Personal Injury

Client fractured left leg in motor vehicle collision – Settled for full extent of insurance coverage - $100,000

Personal Injury Personal Injury

Client suffered head injury in motor vehicle collision and lost sense of taste and smell – Settled for full extent of insurance coverage - $100,000

Personal Injury Personal Injury

Lead paint poisoning – Settled after filing suit - $100,000

Personal Injury Personal Injury

Client suffered multiple injures in a motor vehicle collision – Settled prior to filing suit - $100,000

Personal Injury Personal Injury

Client suffered a lower leg injury when he slipped and fell on ice – Verdict - $97,000

Personal Injury Motorcycle Accident

We represented the family of an operator of a motorcycle killed by an elderly man at an intersection who claimed the motorcycle was being operated at an excessive speed.

Personal Injury Dog Bite

We represented a seven-year-old boy bitten by a neighbor's dog. Medical bills were under $200. The jury returned a verdict of $40,000 after we proved the owner lied about the dog's prior history.

Personal Injury Slip & Fall

We represented a woman who slipped and fell on ice in the parking lot at the Mall. She suffered a broken ankle. The case settled for $62,000 before trial.
Why Hire Us?
Our Promise to Our Clients
A Reputation for Excellence

We are known for our unwavering commitment to achieving the objectives of our clients.

A Legacy of Successful Results

Our 100-year legacy is built on achieving successful results for our clients.

Committed to the Community

We are proud to support a number of worthy non-profit organizations as a way to give back to our community.

Diverse Breadth of Experience

We provide our clients with full-service legal representation across a variety of practice areas.

Client-Focused Solutions

We pride ourselves on providing our clients with personalized legal representation that meets their unique needs.

Experience on Your Side

Founded in 1908, we put more than 100 years of practice and experience to work for our clients.
A Reputation for Outstanding Service
Developed Client by Client
- Amanda V.

- Christina L.

- M & T

- Joshua M.

- Amanda V.