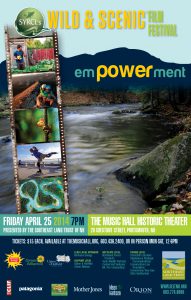 Upton & Hatfield is pleased to sponsor the Wild & Scenic Film Festival on Friday April 25, 2014 at 7 PM at The Music Hall in Portsmouth, New Hampshire.  The Festival helps support the Southeast Land Trust of New Hampshire's efforts to protect significant lands in southeastern, New Hampshire, that provide clean water, outdoor recreation, fresh food, wildlife, and healthy forests.  Tickets will be available at the event or on The Music Hall's web site.
This year's presentation of The Wild & Scenic Film Festival features 12 short films on topics related to water conservation.  "We chose several films with a water theme this year," said Isabel Aley, the Southeast Land Trust's Outreach Coordinator. "Preserving this area's water resources is something very important to the Land Trust."
Justin Richardson, a partner in Upton & Hatfield's Environmental and Municipal Law practice groups, shared his enthusiasm for the event.  "The Wild & Scenic films are as entertaining as they are informative.  Some use comedy to great effect while others tell stories that we may never have considered.  I look forward to this event every year!"
Upton & Hatfield has a long history of protecting New Hampshire's wild and scenic places.  In 1974, the firm obtained an historic ruling which required that the Franconia Notch Parkway be re-designed to protect Franconia Notch and the Old Man of the Mountain, creating the scenic parkway we know today.  Society for Protection of New Hampshire Forests v. Brinegar, 381 F. Supp. 282, 289 (1974).  In 2010, Robert Upton and Justin Richardson helped the City of Nashua acquire nearly one thousand acres of land and easements held by Pennichuck Water Works for protection of its water supply.  Appeal of Pennichuck Water Works, 160 N.H. 18 (2010).  This year, Upton & Hatfield obtained a ruling protecting 71 acres of the Lubberland Creek salt marsh that experts described as "one of the most pristine and unaltered wetland/wildlife habitats in the Great Bay system."