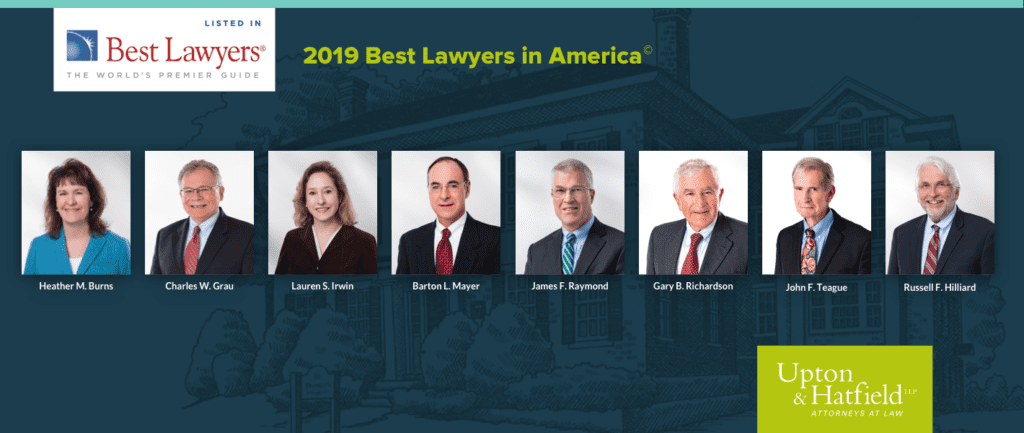 CONCORD, NH—AUGUST 20, 2018—Eight attorneys at Upton & Hatfield, a premier New Hampshire law firm, were recently selected by their peers for inclusion in the 2019 Best Lawyers in America list. The annual referral guide is a peer-review publication covering all 50 states and the District of Columbia.
These attorneys were recognized in the following practice areas:
Heather M. Burns for Employment Law, Litigation, and Medical Malpractice Law
Charles W. Grau for Insurance Law
Lauren S. Irwin for Employment Law
Barton L. Mayer for Litigation and Municipal Law
James F. Raymond for Business Organizations and Real Estate Law
Gary B. Richardson for Medical Malpractice Law and Personal Injury Litigation
John F. Teague for Education Law
Russell F. Hilliard for Mediation
Lauren Simon Irwin was also awarded "Lawyer Of The Year" for Employment Law.
Managing Partner James F. Raymond commended the attorneys who were honored.
"We appreciate the recognition given our lawyers by our fellow members of the New Hampshire legal community for our listing in the 2019 edition of Best Lawyers in America."

The lawyers listed in Best Lawyers® have no say in which practice areas they are included. They are listed in practice areas based solely on votes from their peers.