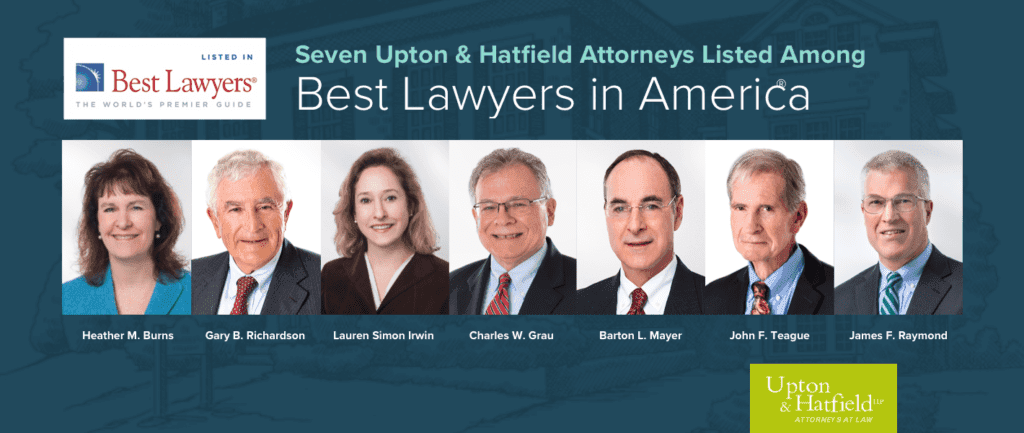 CONCORD, NH—AUGUST 15, 2017— Upton & Hatfield, LLP, announced that seven lawyers from the firm were recently selected by their peers for inclusion in Best Lawyers in America® 2018 annual referral guide, a peer-review publication covering all 50 states and the District of Columbia.
These attorneys were recognized in the following practice areas:
Heather M. Burns for Employment Law, Litigation and Medical Malpractice Law
Charles W. Grau for Insurance Law
Lauren Simon Irwin for Employment Law
Barton L. Mayer for Litigation and Municipal Law
James F. Raymond for Business Organizations and Real Estate Law
Gary B. Richardson for Medical Malpractice Law and Personal Injury Litigation
John F. Teague for Education Law
In addition, two attorneys were awarded "Lawyer Of The Year":
Heather M. Burns for Employment Law
James F. Raymond for Business Organizations
"It is an honor to have so many attorneys listed in the 2018 edition of Best Lawyers in America®. We greatly appreciate being recognized and nominated by our fellow members of the legal community," said Upton & Hatfield Managing Partner James F. Raymond. "We consider it a privilege to be included this year."
The lawyers listed in Best Lawyers® have no say in which practice areas they are included. They are listed in practice areas based solely on votes from their peers.
About Upton & Hatfield, LLP
Established in 1908, Upton & Hatfield, LLP, has a long tradition of providing legal services in New Hampshire. The firm has offices in Concord, Hillsborough, and Portsmouth and represents individuals, businesses, and municipalities in commercial transactions and litigation, business formation and acquisitions, bankruptcy and creditors' rights, employment law, including sexual harassment and wrongful termination, real estate, insurance, medical malpractice, personal injury, municipal and school law, family law, estate planning and criminal defense.  Upton & Hatfield is also committed to active community involvement and public service.