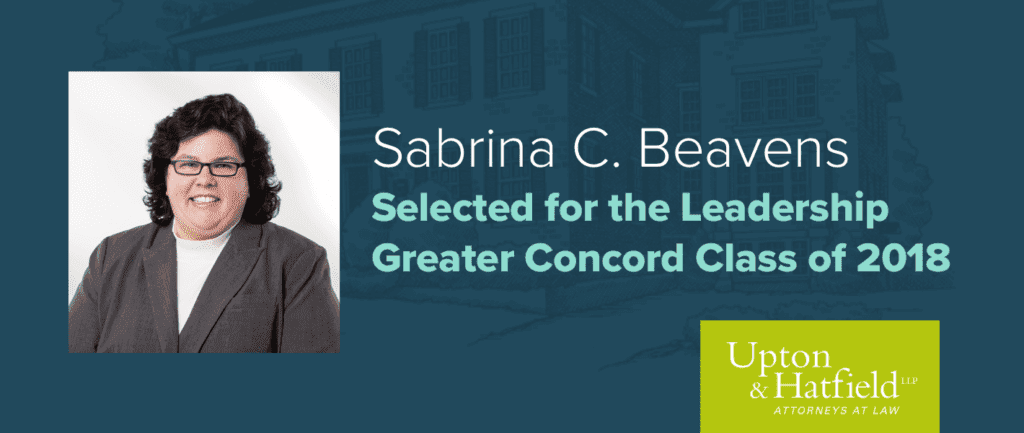 CONCORD, NH – July 7, 2017 – Upton & Hatfield, LLP, is pleased to announce that Sabrina C. Beavens, an attorney in the firm, has been selected for the Leadership Greater Concord Class of 2018.
Leadership Greater Concord is a ten-month program sponsored by the Greater Concord Chamber of Commerce. Attorney Beavens will participate in day-long retreats focusing on topics such as economic development, education, history and culture, and government and politics. She is eager to learn more about issues impacting the Greater Concord area, connect with others who share her commitment to the community and develop additional leadership skills through the program.
Attorney Beavens counsels businesses, financial institutions, and individuals in transactional, business formation, and bankruptcy matters. She has been practicing law for nearly 15 years.  She is Co-Chair of the American Bar Association, Woman Advocate Committee, and Vice-Chair of the Board of Directors for Zebra Crossings, a non-profit organization that provides empowerment programs for children with chronic medical conditions.
About Upton & Hatfield LLP
Established in 1908, Upton & Hatfield, LLP, has a long tradition of providing legal services in New Hampshire. The firm has offices in Concord, Hillsborough, and Portsmouth and represents individuals, businesses, and municipalities in commercial transactions and litigation, business formation and acquisitions, bankruptcy and creditors' rights, employment law, including sexual harassment and wrongful termination, real estate, insurance, medical malpractice, personal injury, municipal and school law, family law, estate planning and criminal defense. Upton & Hatfield is also committed to active community involvement and public service.