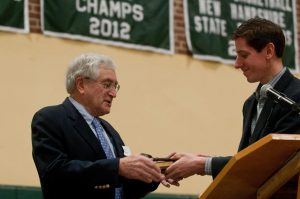 New Hampshire Senator Sylvia Larsen presented Gary Richardson with an award in recognition of his 28-year service as Moderator for the Town of Hopkinton, New Hampshire, at its Town Meeting on March 15, 2014. The Hopkinton Board of Selectmen presented Gary with a gavel for his years of service. Senator Larsen presented a plaque and senate resolution for the same.
A resident since 1970, Gary served as Chairman of the Town's Board of Adjustment and on its Planning Board, prior to his election as Moderator in 1985. He currently represents the Town of Hopkinton and Concord District 5 in the New Hampshire  House of Representatives as the Majority Floor Leader.
In an article on the awards, the Concord Monitor reported that: "Over the years, Richardson has seen the meetings become more civilized. "People have become much more willing to listen to other points of view," he said."  "The great thing about town meeting, the people who are here really care about their town," he said. "Whether they are for an article or against, they are participating in the process.  It is democracy at its best, as far as I am concerned."
The Monitor further reported that he led Hopkinton's town meeting with good humor and grace, drawing laughs at times and a standing ovation at the meeting's close.  Over cheers and whistles, he saluted the crowd and thanked them before he adjourned his 28th and final town meeting. "I tried to do the best I could. I will miss it very much," he said.